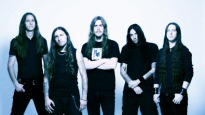 The weekly mailshot from
Ticketmaster
is here again and I urgently scroll down to the 'events which matched your interest' box.
Razorlight
are in there. How disappointing. I can imagine going to see them. Not hugely close to my interests, but a bit.
But then. But then.
Ticketmaster
don't let me down. They think the top event which will interest me is
Opeth.
I don't know who
Opeth
are although you will see from the picture that looks suspiciously like a metal pose. Google
Opeth
. Oh yes:
'Opeth is a progressive death metal band from Sweden ... Opeth has also attracted a lot of attention from doom metal fans.' This info courtesy of
Rockcrypt
.
Where do they get their customer profiles done? Ben and I are off to see the
Futureheads
tonight. Not death. Not doom. Not metal. Not Eurovison. They are from Sunderland though. That's nearly Scandinavia.